Dinah Washington – Dinah Jams, 1954 : 4,09/5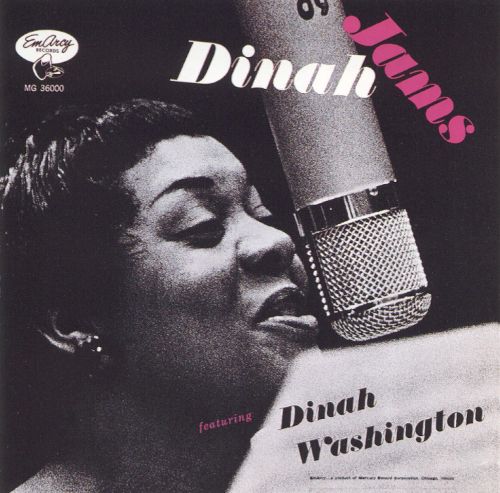 La voix formidable de Dinah Washington est accompagnée par Clifford Brown à la trompette et Max Roach à la batterie, bref du jazz parfait. On alterne entre des orchestrations rythmées et folles (Lover, Come Back To Me, I've Got You Under My Skin) et des ballades lentes parfaitement maîtrisées (Alone Together, une des plus belles versions de Summertime, Come Rain Or Come Shine).
N°
Titre
Compositeurs
Critique
1
Lover, Come Back To Me
Oscar Hammerstein II, Sigmund Romberg
****
2
Alone Together
Howard Dietz, Arthur Schwartz
****
3
Summertime
George Gershwin, Ira Gershwin, DuBose Heyward
*****
4
Come Rain Or Come Shine
Harold Arlen, Johnny Mercer
****
5
No More
Tutti Camarata, Bob Russell
****
6
I've Got You Under My Skin
Cole Porter
****
7
There Is No Greater Love
Isham Jones, Marty Symes
****
8
You Got To My Head
J. Fred Coots, Haven Gillespie
****
9
Darn That Dream
Eddie DeLange, James Van Heusen
****
10
Crazy He Calls Me
Bob Russell, Carl Sigman
****
11
I'll Remember April
Gene DePaul, Patricia Johnston, Don Raye
****
http://www.allmusic.com/album/dinah-jams-mw0000615510
Enregistré au début de l'ascension de Dinah Washington à la gloire, Dinah Jams de 1954 a été enregistré en live devant un public de Los Angeles. Alors que Washington est en pleine forme, travaillant sans effort sa voix puissante basée sur le blues sur les ballades et les swingers, le casting des solistes vedettes vole presque le spectacle. En plus du batteur Max Roach, du trompettiste Clifford Brown et d'autres membres du groupe de Brown and Roach à l'époque – le saxophoniste ténor Harold Land, le pianiste Richie Powell et le bassiste George Morrow -, les trompettistes Maynard Ferguson et Clark Terry, le saxophoniste alto Herb Geller et le pianiste Junior Mance contribuent également à la session. En plus des confitures prolongées comme  » Lover Come Back to Me « , » You Go to My Head  » et  » I'll Remember April  » – toutes incluant une série de solos – il y a des numéros de ballades plus courts comme « There Is No Greater Love  » et  » No More « , dont le dernier met en vedette l'excellent travail muet et obligatoire de Brown. Parmi les autres moments forts de l'album, mentionnons l'excellent solo de ténor de Land sur  » Darn That Dream  » et la déclaration alto de Geller sur le chanteur de Washington, » Frazy « . Et même si elle se trouve au milieu de ces solistes étincelants, Washington travaille habilement sa voix souple tout au long de l'album pour rester l'attraction vedette, et même pour rivaliser avec le trompettiste Ferguson. Un beau disque. Les nouveaux arrivants, cependant, devraient commencer par des titres plus accessibles et plus vocalement centrés sur Washington, comme The Swingin'Miss D ou The Fats Waller Songbook, qui présentent tous deux les meilleurs arrangements de Quincy Jones. (All Music).